Best Mansions in Rhode Island right in Newport
The overwhelming expression that follows the study of Newport Rhode Island Mansions is not only because of its beauty, fashion, the landscape ascribed to them but also based on the fact that most of these structures have stayed for over 100 years.
Newport Mansions which are also referred to as summer cottages are majorly seen not just as powerful edifices but also as architectural structures.
It has been the duty of the preservation society of Newport to make sure that every mansion in Newport is protected and the story of wealthy and prominent families attached to each home never dies but is preserved and circulated through generations and generations unborn including tourists and visitors as they hold a special place in America's history.
During the early days, dating back to the 1800s, times which were generally called the gilded age, Rich men from different parts of America came to Newport to settle, investing their life earnings into Mansions, their effort paid off as these remain a wonder to future generations and a tourist attraction for visitors.
The Gilded age was a phenomenal period in American history. Not just this period saw the dawn of industrialization, but it also bore the civil wars, labor trouble. Newport was no exception from all these.
However, the story of these houses would not be complete without mentioning the servants who served in these Mansions.
These domestic staff made sure that the house kept running effectively, running internal and external chores to the taste of their masters.
During those days, a single Newport RI mansion can house as much as 27 servants. Some of these domestic staff take care of the laundry, tending to the house or the field.
As the silent development of these houses enhanced, staff were fired, many were sent out, strikes ensued, all to adapt to the fluctuating changes in economic development.
Nevertheless, the servants living in the house were awarded certain luxuries that gave them some sense of ownership around their masters.
Today, Tours and visits are carried out on these mansions, 11 of them actually, under the regulation of the preservation society of Newport to study the structure, development, and life behind those trivial homes.
The society which runs its operation from Bellevue avenue Newport RI incorporates the sale of tickets for tours as an avenue of generating revenue for the locality. Newport Mansions receive an average of 1 million tours every year.
Quite a significant rush!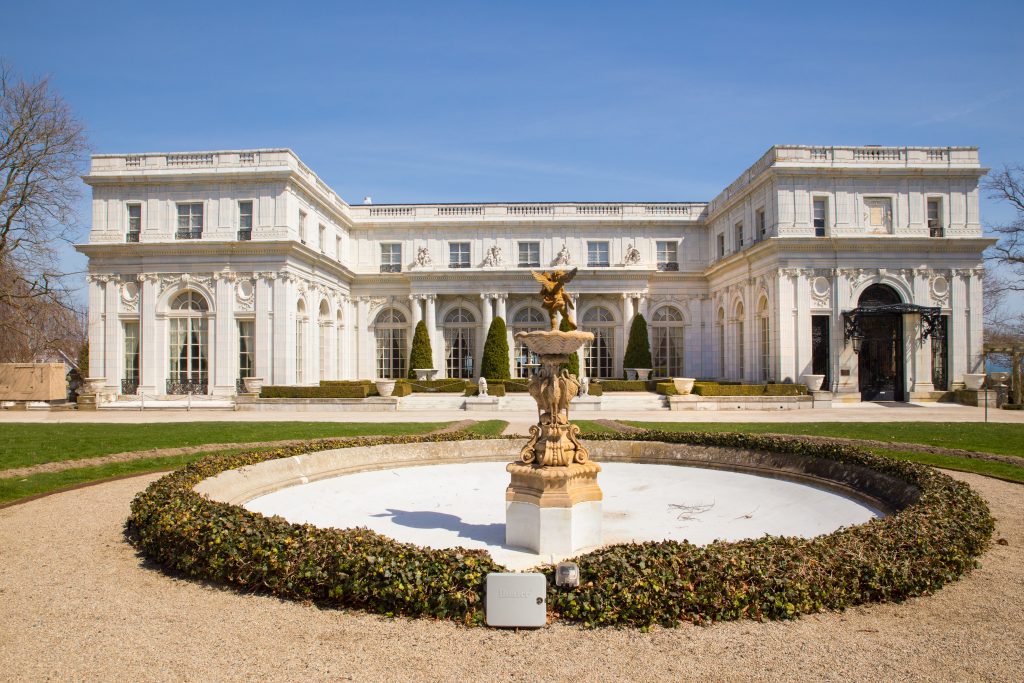 Why were mansions built in Newport RI?
The richest men and Families in America like the Van derBilt's of the asters, the bur wind, took a run from the streets of New York, to avoid the boiling heat of the society and the stress of the Gilded age, to spend some quality time with their families in their beautiful built cottages.
Who lives in the Newport mansions?
Following the death of most of the owners and families of those who built these mansions, most of the Newport mansions were almost lost into the wrong hands with some being demolished.
The preservation society set out to purchase these homes, not with the intent of living in them but to set them up as museums and tourist centers.
Although reports circulated about the move of president Trump in purchasing one of Newport's monumental homes, The Breakers Mansion in 2017, with the sum of $112 million with the intent of turning it into a summer house and Casino.
However, a majority of the mansions of Newport are owned by society to ensure preservation.
Who owned the mansions of Newport RI?
The Newport RI mansions were initially owned by residents of America who migrated to Newport to set up living out of the buzzing stress of New York.
Different houses were built by different persons and repurchased as time swept by.
Individuals like James .B. Duke owned the Rough point home, Edward Julius Berwind owned The Elms, William .K. Vander owned The Marble House, Theresa Fair Oelrichs owned The Rosecliff, William Wetmore owned The Chateau-Sur-Mer, others like the Van der Bilt's, Bur winds owned a wide collection of homes while some other homes were built as a national landmark.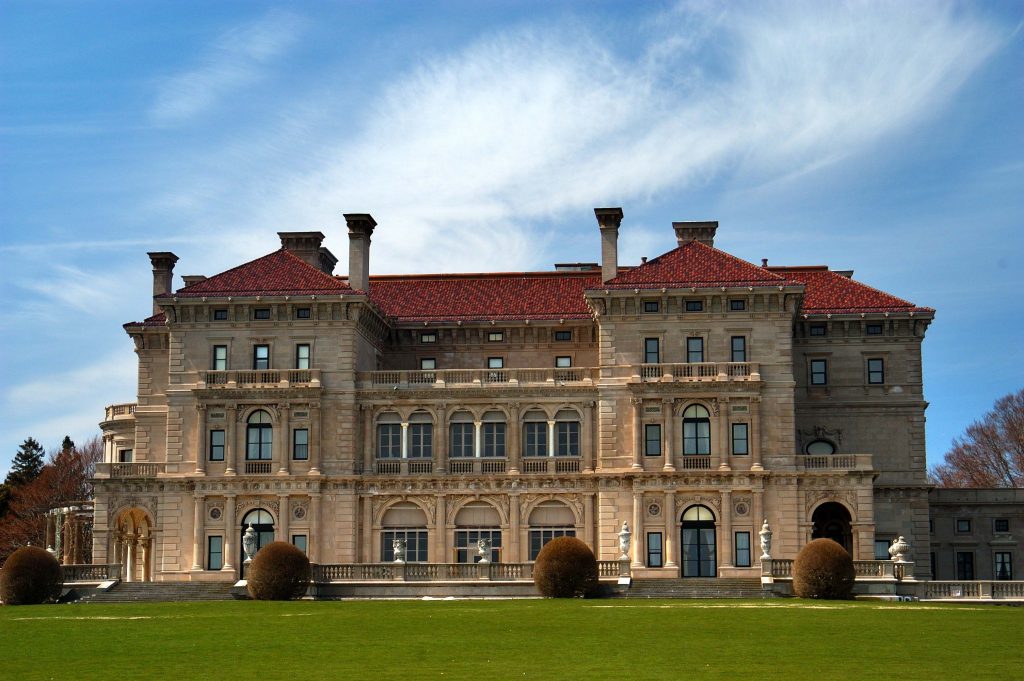 How many mansions are in Newport RI?
There are 11 mansions in Newport RI owned and run by the preservation of Society. A great number of these Newport mansions are under the protection of the preservation society.
How much does it cost to tour the Newport Mansion?
Newport Mansion tours rates are splitted into different categories for different persons.
Mansions like The Breakers, Elms, Château-Sur-Mer, Kingscote, Rosecliff, Marble House, and the Isaac Belle house are owned by the society of Newport county. To purchase tours ticket into any of these houses you will need to visit their website at Newport Mansions.
Belcourt has its ticket sales done on its website.
Newport tour rates are;
Adult: $24 – The Breakers
Youth(6-17) – The Breakers
Adult: $35 – To all Newport mansions except Hunter House
Youth(6-17): $12 – To all Newport mansions except Hunter House
Adult: $17.50 – One property except for The Breakers and Hunter House
Youth (6-17): $8 – One property except for The Breakers and Hunter House
Adult:$29 – The Breakers House with one other property except for Hunter House.
Youth ($6-17): $9 – The Breakers House with one other property except for Hunter House.
Adult: $30 – Hunter House
Youth ($6-17): $8 – Hunter House
Is Newport Rhode Island Worth Visiting?
One of the reasons why people visit Newport Rhode Island is to witness the ancient architecture, spectacular landscape of Rhode Island.
However, there are numerous reasons why Newport RI is worth visiting.
You will love to visit its seaport, the Easton Beach, First and second beach, the harbor, have a beautiful view of the sea scenery, the lighthouse as well.
Newport RI also stands as America's home for sport, and culture, and Technology as well.
Fort Adams, International Hall of Fame, the cliff walk, museums, I bet you will also love the taste of their amazing seafood.
Mansions in Newport RI
The Breakers
Address: 44 Ochre Point Avenue, Newport RI
Hours of Operation: All year, closes 5 pm
The Breakers was built by Cornelius Vanderbilt II under the architectural supervision of Richard Morris Hunt in 1895. This mansion features 70 Italian Renaissance styled rooms, a central great hall of 45ft, and on a 13acre estate which sits adjacent to the Atlantic.
The Breakers is one of the buildings that weren't just owned by the society of newport county but was turned into a national landmark. It is the largest ancient mansion of Newport.
This mansion became a national landmark around 1994 and became a source of revenue for the Bellevue Avenue Historic District. Its entire operation is run by the society.
Rosecliff
Address: 548 Bellevue Avenue, Newport, RI
Hours of Operation: All year, closes by 4 pm
Rosecliff was built in 1898-1902 under the ownership of Theresa Fair Oelrichs before it was bought by Mr & Mrs. Jr Edgar Monroe.
The house owners sought the services of an architect, Stanford White under the partnership with Mckin, Mead & White to achieve the French Baroque Revival mansion.
After the death of Theresa on November 22, 1926, Hermann Oelrichs sold out the pieces of furniture of the house in 1941, before final ownership was handed over to Me Monroe and his wife in 1947.
The Monroe family donated the entire estate to the society with the inclusion of a $2 million operation endowment.
It was added to the National Register of Historic places on Feb 6, 1973, and sits on a landmass of 6.5 acres.
The Elms
Address: 367 Bellevue Avenue
Hours of Operation: All year, closes by 4 pm
The Elms which was initially owned by Edward Julius Berwind built in 1901 under the architectural supervisor of Horace Trumbauer.
This enormous large mansion which looks somewhat like the US Whitehouse when viewed from its great lawn, is designed to a classical Revival architectural design.
This mansion holds amazing history as one of the first houses to be fully connected to electricity without any backup system, costing an approximate of $1.5 million to construct.
Aside from the interior of the house which features a ballroom, an entrance hall, an eastern porch, and a wall built with brick masonry and coated with Limestone. It also sports a great lawn and exterior surrounding of 10 acres.
The society purchased the home in 1962 turning it into a museum for tourist attraction.
Rough Point
Address: 689 Bellevue Avenue, Newport, RI
Hours of Operation: All year round, Closes by 4:30 pm
This mansion was built by Frederick William Vanderbilt repurchased quite a number of times with James .B. Duke becoming the last buyer before passing ownership over to his daughter Doris Duke.
Rough Point was designed by an architectural organization, Peabody Steams.
This castle sits on a 10-acre estate which was built to an English Manorial style and remains one of the ancient mansions that survived the Gilded age.
Upon the death of Doris Duke in 1993, the property's ownership was handed over to Newport Restoration Foundation and became a public museum in 2000.
Marble House
Address: 596 Bellevue Avenue Newport RI
Hours of Operation: All round the year.
Marble House was owned and built-in 1872 by Alva and William Kissam Vanderbilt before it was handed over to the society to be used as a museum and later got registered in the National Register of Historic Places on Sept 10, 1971, and a national Land in 2006.
The Marble house was designed by Richard Morris Hunt in 1888 and it became one of the homes that lifted the face of Newport during the Gilded Age.
This ancient edifice features 55 rooms, and cost $11 million to build.
Chateau-Sur-Mer
Address: 424 Bellevue Avenue
Hours of Operation: All year round, closes at 5 pm.
The castle was built in 1851 under the ownership of William Shepard Wetmore through the architectural design Ogden Codman Jr, Construction of Seth C. Bradford, and renovations done by Richard Morris Hunt.
It features a mid 19th century Revival style, a landmass of 17 acres. Its renovations turned the castle into a French second Empire style.
It is built to a 45ft story chamber, an Eastlake styled room, and a decorated ballroom.
This castle boasts of being amongst the first mansions of Newport before being owned by the preservation society. It became a national historic landmark on Feb 17, 2016, and got registered in the National Register of Historic Places on November 8, 1968.
Isaac Bell House
Address: 70 Perry Street, Newport.
Hour of Operation: All year round, closes at 5 pm.
The Isaac Bell house was built in 1883 under the ownership of Isaac Bell Jr, a cotton Broker by McKim, Mead, and White Architectural Organization.
This investor got his cottage designed in a shingle style, borrowing a leaf for Henry Richardson.
The mansion is a blend of ancient English layout and Japanese open floor pattern and a bamboo porch.
The society bought this mansion in 1994, became a National Historic Landmark in 1997.
Ochre Court
Address: Cliff Walk
Hours of Operation: Always Open
Ochre Court is the second largest mansion in Newport.
Built-in 1892 under the operation of Ogden Goelet with ownership accorded to Salve Regina University with architectural aid by Richard Morris Hunt designed to the architectural design of Chateauesque.
Ochre Court costs $4.5 million to complete its construction.
Breakers Stable and Carriage House
Address: Bateman and Coggeshall Avenue
Hours: All year-round.
This home was built in 1895 by Alfred Gwynne Vanderbilt to be operated by the head Coachman of sports.
The home features a 100ft deep, 150ft wide carriage-style design. This Stable and Carriage House also features a wide collection of homes established by the Vanderbilt family.
Chepstow
Address: 120 Narragansett Avenue
Hours of Operation: All year-round.
It was built in 1860 by Edmund Schermerhorn under the architectural guide of George Champlain Mason. It was repurchased quite a number of times before it was restored to the ownership of the society.
Hunter House
Address: 54 Washington Street
Hours of Operation: All year-round.
Built in 1748 under the architectural design of Georgian for Jonathan Nicholas Jr. The mansion saw a lot of resales, passed through wartime before it became a property of the society to avoid its destruction and becoming a national landmark in 1968.
Kingscote
Address: Bellevue Avenue
Hours of Operation: All year round
Built and designed to a Gothic Revival style in 1839 under the ownership of George Noble Jones and the architectural design of Richard Upjohn. Got resold to the King family until 1972 before being given to the society.