Rhode Island (RI), the smallest state in the US, popularly known as 'Ocean State's remains an amazing spot on earth for tourism, recreation, and relaxation, not basically because of their top-notch cultural practices, breathtaking cuisine but most times because of the topography, the terrain, the shores, beaches and bay scattered across the place.
Rhode Island is actually a small side in terms of landmass, covering an approx. the land area of 1,045 sq. mi. (2707 km²) yet it makes you for its land deficiency with water.
RI handles a water mass of 169 Sq. mi (438 km²). This shows that the Island is completely covered by 13.9% water.
The beaches in RI are naturally spread out in such a beautiful way that you will surely find a beach through a 15.54 km² walk.
The charming water setting on the island, 400 miles of coastline, average wind speed of 11.18mph – 17.50mph through Bristol, Newport, Washington, Kent, and Providence, more than 30 islands for your comfort and survey, an average temperature of -7°c(20°F) when it's low and a 28°c (83°F) when it's high, trust me, nothing should stop you from taking a vacation on this beach.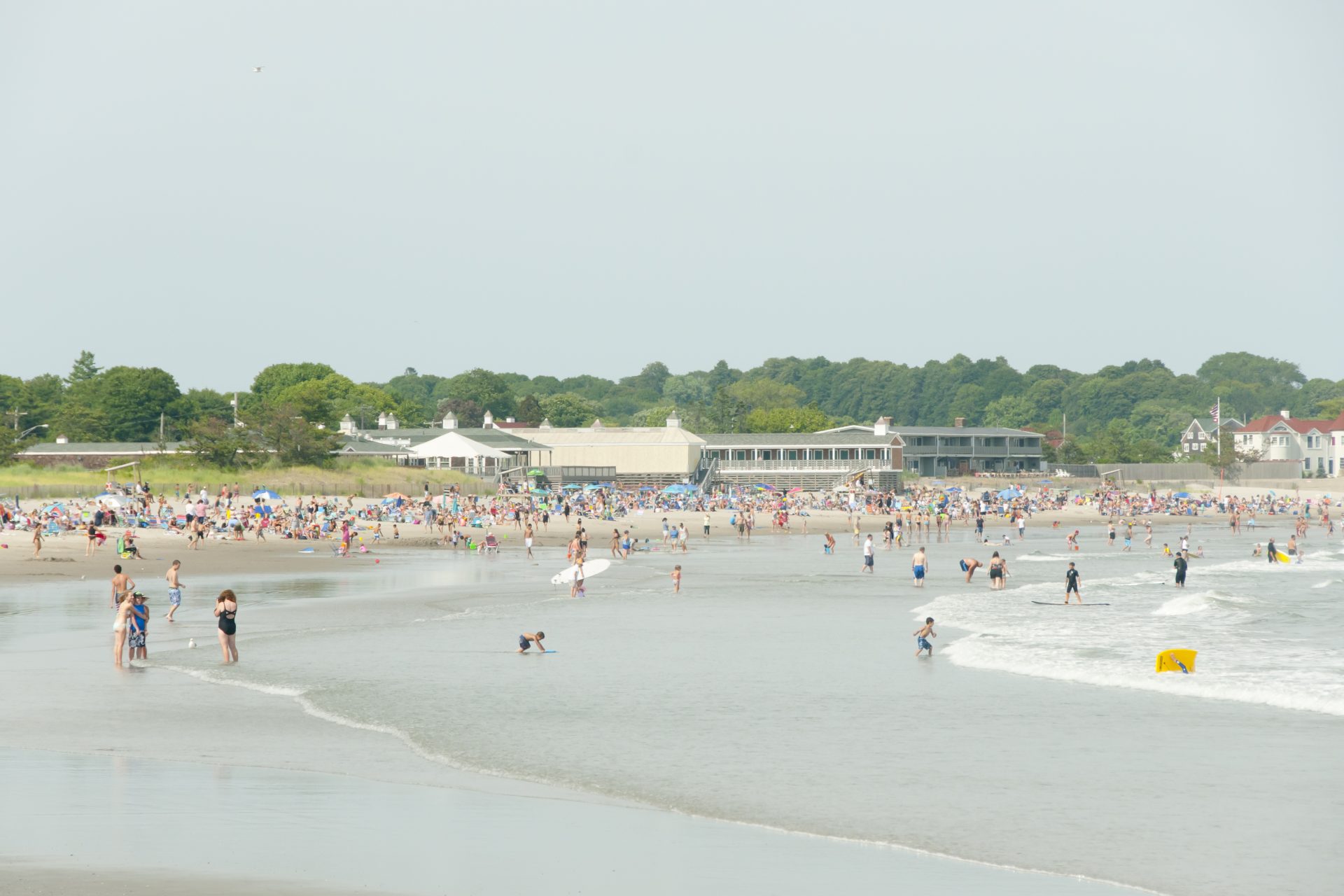 Does Rhode Island have good beaches?
Beaches in Rhode Island are the best in New England. My preference for RI beach as the best is not relatively limited to its beauty and natural advancement but its propensity to hurricane blows, flood, storm, landfalls, as compared to neighboring states in New England.
Most states in New England have been known to cut across the Atlantic Ocean, states like Maine, Connecticut, and New York. However, these states are naturally prone to storm attacks or hurricanes.
Rhode Island has been considered a safe place to break the day, having its last landfall on August 19, 1991, on RI, Block Island.
The rare occurrences of Hurricane on the island dates back to two centuries ago, making it a safe harbor for residents and non-residents.
Enough of the history lesson, let's get to the fun class on why you should believe that got the best beaches in New England.
RI State beach, town beach, and privately owned beach are blessed with good sand quality. Most especially beach Narragansett and some beaches in Newport. The fine grain sand, soft sand, silk leg feel, you are going to get that fine-coarse feet cruise.
Its beautiful landscape of fine same grains scattered all over the beach is as a result of metamorphosis on Narragansett Basin rocks.
On RI Beach, you are less vulnerable to an unprovoked shark attack. My conclusion to this is not because I have gone to place myself in front of a shark on a beach on RI and wait to see its response, it's dumb to take such a risk.
But this is based on the fact that the last unprovoked shark attack on Rhode Island was in 1895. Compared to Massachusetts that had a recent twin-attack in 2018.
Although researchers at Atlantic Shark Institute have detected four great white sharks along Block Island, RI. It is important you always remember that the last time a fatal attack was reported on the island was in 1895.
Asides from the horror tales I just led you through, there are salt ponds on RI, rocky dunes, beveled dunes, amazing scenery, and surfing ability.
During the day, you can spend some time on warmer and shallow waters, with fewer crowds. Making amazing, you stand a chance of meeting Taylor Swift of RI.
Is there anything too special about this?
Possibly not.
But she owns a mansion in RI and she seldomly throws parties within the year.
How many beaches are there in Rhode Island?
Rhode Island has seven state-run beaches, handled by its division of parks and recreation.
However, Rhode Island boasts of a 400-mile coastline and a 13.9% water covering. This proves that there are quite a large number of beaches across the state.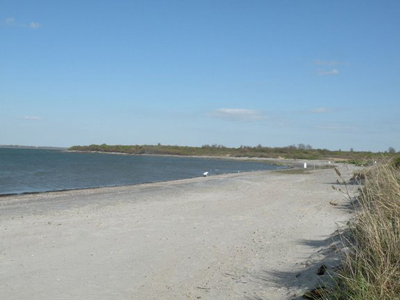 Can you swim in Rhode Island Beaches?
Yes. You can swim in most Rhode Island Beaches, as long as it is not closed. But, before you set out to dive in, make sure you confirm if it is okay to swim on the beach. This is to restrict pollution and water contamination which can spread illnesses.
RI has a beach monitoring program that regulates beach activity, ensuring that waters are safe for swimming. However, before you go swimming, ensure to check the status of the surfing spot you wish to catch fun on.
Can you drink on the beach in Rhode Island?
Drinking intoxicating items is a no-no rule on Rhode Island Beaches. Drinking alcohol is highly prohibited across every single beach on Rhode island. Intending swimmers; residents and nonresidents are advised against taking alcohol before and during swimming sessions. This helps reduce the rate of drunk-related beach drowning.
What beach in Rhode Island has the biggest wave?
Rhode Island beach and water settings usually have an average wavelength of 3-4+. According to Surfline, there are quite a number of places in RI that have great wavelengths.
In their ranking order they include;
Ruggles, Newport – 5-7ft
Easton's Beach (First Beach) – 4-5ft
Monahan's, Narragansett -3-5ft
Misquamicut State Beach – 3-4ft
Matunuck – 3-4ft
Point Judith – 3-4ft
Point Judith North – 3-4ft
Narragansett – 3-4ft
Newport's First Beach is Rhode Island's beach with the biggest wave of 4-5ft.
Top 10 Best Beach in Rhode Island
This review does not stand in any ascending or descending order but this list is just a curation of top-rated beaches you can find in RI.
Easton's Beach, Newport (First Beach)
Easton's Beach starts from the beginning of Newport's cliff walk.
This amazing beach in Newport looks so amazing when the southeast swell comes in contact with the North offshore wind producing beautiful wave patterns for surfers.
Its wind direction from the north is consistent and permits surfing any time of the year, although with a great preference for some months in the year.
The best time to surf on Easton's Beach, Newport is during March, while the best season is Winter. During this period, there are 5% more clean surf-able waves than the rest of the year.
Easton's Beach sports a warm air of an average water temperature of 18.9°C – 20°C. Although I will advise surfers to get a spring wet suit while surfing.
Narragansett Town Beach, Narragansett
Narragansett Town Beach is a beach break located in Narragansett with a wind direction pointing through Northwest and an average sea temperature of 18.7°c.
The best time to surf on Narrangansett's Town Beach is in November, while its best season is Winter. During this specific time within each day, there are 21% more clean surfable waves than the rest of the year.
Narragansett Town Beach features a shoreline of up to 20 acres and an optimum swell and winds.
Misquamicut State Beach, Westerly
Misquamicut State Beach is one of the best beaches on the Island with a very consistent wave tide and wind direction.
Its offshore wind pointing through the Northwest direction and it has an optimum groundswell and wind swell around the day, and they are usually of equal measure.
Having its best surfing time to be September and its best season in spring with a 28% rate of clean surf-able waves during the specified day. Its average temperature is 18.7°c.
Goosewing Beach, Little Compton
This amazing is located in little Compton, featuring grassy dunes and a 75-acre conservation area.
Most beaches in little Compton are usually looked out from public usage but Goosewing Beach is an exception.
The best time to surf Goosewing Beach is in March during Winter.
It handles 5% clean surfable waves, an average temperature of 18.6°c, and consistent tidal waves through this day.
Crescent Beach, Block Island
Crescent Beach which is located on block island is a unique beach that features an amazing beach setting, Rock riff, point breaks, and core.
It has a consistent average sea temperature of 18.8°c, a tidal wave that hardly breaks, and the best day/time of the year to go surfing on Crescent Beach is in November or during Autumn. This period holds a 26% rate of clean surfable waves.
Napatree Point Beach, Westley
Napatree is a breakwater type of beach featuring a fairly consistent wave motion with 38% clean surfable waves.
The best time to visit Napatree point Beach is during September and the best season is Autumn. This period offers you a higher percentage for clean surfable waves throughout the day.
Sometimes, wave height drops to 19%, a fair percentage of beginners and amateur surfers to become perfect in the arm of surfing.
Napatree Point Beach has an average sea temperature of 18.8°c.
Scarborough State Beach
Scarborough State Beach is a fairly consistent Beach with an 80% rate of small waves, 15% clean surfable waves. Although some wave-breaks are produced, making it slightly suitable for surfing.
It features an average sea temperature 18°c – 18.7°c, wind direction from the west and Northeast and a good combination of groundswells and wind swells with its best swell coming from the southeast.
Matunuck Beach, South Kingston.
Matunuck is a very consistent reef type beach with an average sea temperature of 18.7°c and 26% clean surfable waves.
The best time to surf on Matunuck is in November, with its best season during Autumn.
East Beach, Charlestown
East Beach is a point type with 28% clean surfable waves and an average sea temperature of 18.8°c.
It handles a wind direction that comes from the Northwest and an irregular inconsistent wave pattern.
The best time of the year to surf is in December and in the winter season.
Sachuest Beach (Second Beach)
Popularly known as the second beach, the Sachuest Beach is most of the time confused with the first beach.
It has its best wind direction from the North, a fairly consistent tidal wave, an average sea temperature of 18.7°c, and a dual beach break from the left and right.
It features a 5% clean surf-able wave with its best time of the year for surfing being March and in the Winter season.
Popular Beaches in Rhode Island
Rhode Island has a long list of beaches in its environment, some of the popular ones include;
Sachuest Beach (Second Beach)
Bailey's Beach
Baker's Beach
Block Island Beach
Breachway Beach
Easton's Beach (First Beach)
Goosewing Beach
Greenhill Beach
K38 and K39
Lighthouse Southside Beach
Matunuck Beach
Misquamicut State Beach
Monahan's Beach
Mohegan Bluff, Block Island
Napatree point
Oakland Beach
SaltyBrine State Beach
Charlestown Beach, Block Island
Narragansett Town Beach
North Pier(Narragansett) Beach
Scarborough State Beach
Gooseberry Beach
A wide range of these beaches allow camping facilities, picnic expeditions, some are enabled with cooking stalls, restaurants, parking lot, restrooms for the comfort of the visitor while some are not.
General Regulation measures on most beaches across the island entail that surfers and visitors do not take alcohol, to avoid unwarranted harassment or accidents.
Beach pollution and contamination is no-no rule to surfers. All beach users are intended to dispose their waste properly,use the toilet when necessary and always stick to suing the waste bin for trash
Surfers are also advised to take note of buoys as a safety precaution.
The beach remains one of the best places to seek relaxation, nevertheless, a surfing gear is advised for your safety, health and exposure to cold or warm waters. Don't forget your beach chairs!  If you would like to rent jet skis while you are visiting, you most likely will be able to.  If you are visiting Portsmouth, RI and want to lay low Sandy beach is a very nice local beach!  There is a fee for out of townees (sorry) What do you think of when you hear Rhode Island Beaches? Is it the East Matunuck state beach? Watch Hill Beach? Narragansett bay? It really doesn't matter what we think, it is the Ocean State, you do you!